I am happy to host a weekly gathering to talk about life and how we can each become more aware of who we are, what we are and how we are as we each journey towards living our best, authentic self every day. : ) There will be no specific focus, but we will likely dealing with some of the bigger issues that I know people face and which I have the most experience in overcoming, which are: - anxiety & stress - grief - depression - not feeling true to self - living in the present moment There is no pressure to share, simply being present will put you in an atmosphere of support, from which we can all raise our awareness about options that we may not have been aware of before in life. I look forward to seeing you there.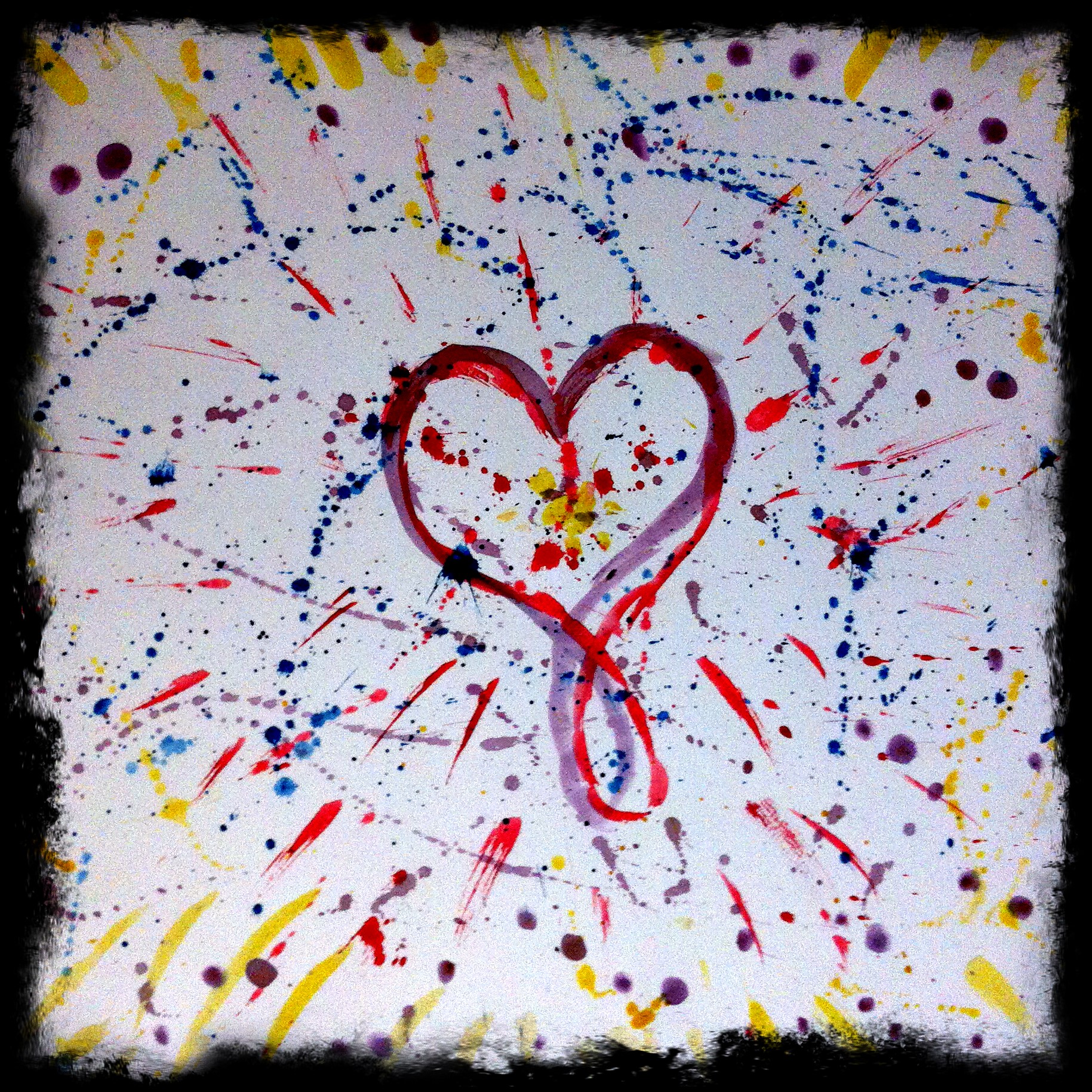 Infinte Heart Healing paintings by Steve Allat available on site or by commission In the end, connecting to the consciousness of all, through our hearts, will heal any disconnects that contribute to suffering on the earthly plane.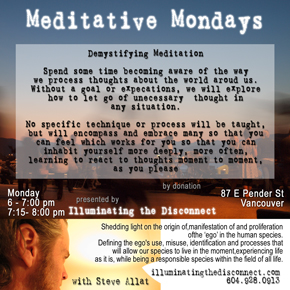 Not the typical approach to the idea of meditation. Because a meditative state can be achieved in any circumstance, it is the stillness of the mind and the permission of you, the watcher of your mind, to know that the world outside can and will be there, will go by. Reacting to the mind's reaction to how it perceives the outside world is for you to decide - whether to react at all and how. This is the basis of my life, living moment to moment in a state of living meditation, and allowing much more than reacting unnecessarily - and I would like to show you processes and practices that you can use to raise your own level of awareness and how involved your thinking mind needs to be in your moment to moment experience of life.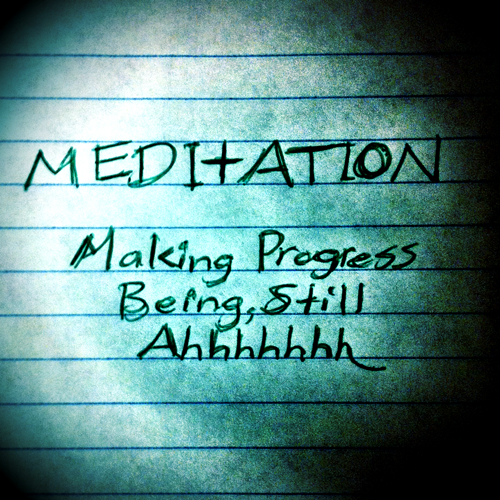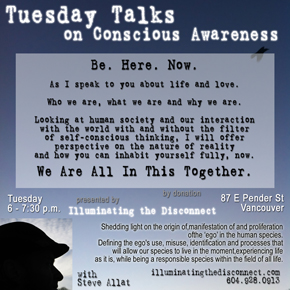 An ongoing series of talks on a variety of subjects relating to universal truths about the human condition as it is in the world today. Identifying the ways we live through the self-conscious mind and discussing ways to understand, incorporate and transcend it so that we can each live more authentically as our true self, beyond ego, while collectively living and holding each other accountable as a species on this Earth.

Every Tuesday Location 87 E Pender St, Vancouver Time: 6:00 p.m. for one hour plus discussion. by donation (cash or food-bank items)

Introduction to 'Illuminating the Disconnect'
Who am I? Who am I to speak of universal truth beyond ego? Personal examples, anecdotes Discussion, Question & Answer
Inhabit Your Self!Living without depression, anxiety, stress
My history, understanding and transcendance Definitions, disconnections and reconnections with Self Discussion, Question & Answer
Meditation as Everyday Life
Demystifying meditation, practices, techniques My history with contemplation, living in the moment Discussion, Question & Answer Practical suggestions
Being as Human as Human can be
Definitions: life, human, consciousness WHAT is a human, WHO are you? Discussion, Question & Answer
Human Diet and Lifestyle: Updated
Egotistical Carnivores, Life as Movement Human evolution explained Discussion, Question and Answer
Contemplation vs Thinking
The Gentle 'Art' of pondering things Discussion, Question & Answer Examples
Why Philosophy will always trump Science
Defining the infinite, consciousness and matter Historical background to Modern Theory Discussion, Question and Answer
The Dark Side of Manifesting
The Secret, the Law of Attraction: truth Discussion, Question and Answer
Toxic Environments
Mental, Emotional, Spiritual & Physical Identifying and Changing how we relate to the world Discussion, Question and Answer
Overcoming Shyness
My story and identifying root causes Letting go of patterns, self-labelling Discussion, Question and Answer
Slowing Down
Internal Stillness in any circumstance Minfulness as a constant state Discussion, Question and Answer
SUGGEST A TOPIC!